23/06/2019
Trivia Night!! So much fun
JCQ's first Trivia Night was very successful.  It was a fun night with nice Japanese food, drink, game and quiz.
Thank you everyone who participate to the event.
Big thank you to sponsors and Mr. Sam O'Connor MP, and Holding Redlich Lawyers.
JCQ最初のトレビアナイトが成功裏に終わりました。とても楽しい一夜でした。
日本好きな皆と日本人が一緒になって、問題やじゃんけん、けん玉大会に挑みました。 ご来場の皆さんありがとうございました。
また、サム・オコーナー議員、ホールデング・レドリック法律事務所、そしてスポンサーの皆様に感謝申し上げます。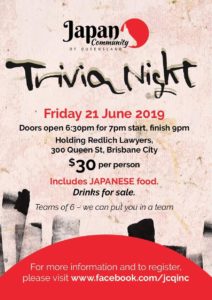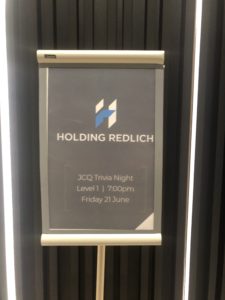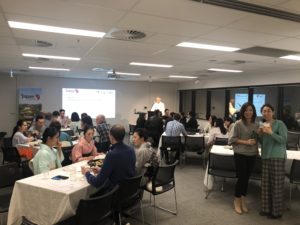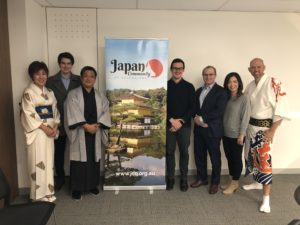 23/06/2019
Great Success "Cycle around Japan" seminar
It was a great success Mr. Michael Rice "Cycle around Japan" seminar.
マイケル・ライス氏の「サイクル・アラウンド・ジャパン」は大成功に終わりました。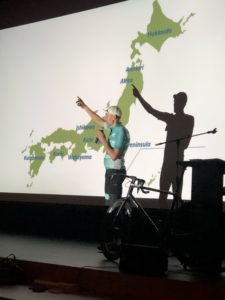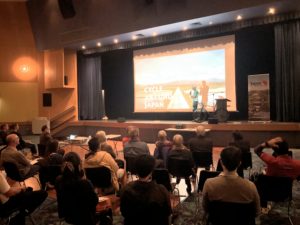 Over 60 people came to attend the event. Thank you for attend the event, we hope you had a wonderful and informative night.
60名以上の方にご参加いただき、懇談中もライス氏を囲んで、質問が相次ぎ有意義な時間を過ごしていただいたことと思います。
From Left Yoshiko Moore (Committee) Mr. Michael Rice and Nao Hirano(President)
18/06/2019
Activity report and Request to become a financial member
Thank you so much for your support and membership of JCQ through this time.
Committee has been busy getting the association started, setting a solid foundation for its future, and growing the work we are doing to support the Japanese community in Queensland.
Some highlights:
Our official JCQ launch event was hosted at Parliament House, Brisbane, in August 2018
We built a website – www.jcq.org.au
And a Facebook page – www.facebook.com\jcqinc
Contributed content to the "Speak My Language" program to provide information about aged care in Australia to people who speak languages other than English
Organised domestic violence information sessions and materials for Japanese people
The JCQ Annual General Meeting was hosted in March 2019
We currently have 90 ordinary members and 8 corporate members
And some upcoming events:
JCQ Trivia Night fundraiser – Get a team together and come along! – Friday 21 June 2019 in Brisbane City – More info through our Facebook page www.facebook.com\jcqinc
Queensland-Japan Parliament Friendship Function – Tuesday 20 August 2019 – Contact event@jcq.org.au if you are interested in attending
35 Year Anniversary of the Sister State Relationship between Queensland and Saitama-ken – October 2019 – More info to come soon
For your information, the JCQ management committee has agreed that membership renewals will be due on July 1 every year.  Members who are due to renew their membership will be notified by email later this month.  Our membership fee for individuals is unchanged at $20 per year.
Our membership fee for individuals is unchanged at $20 per year.  There are other fees for families and corporate members.
The best way to renew your membership or become a member is online at the JCQ website – https://www.jcq.org.au/en/join-us – just use the standard membership form.
Alternatively you can download a manual membership form from the same website.  Or if you have any trouble with this process, send us an email at membership@jcq.org.au and we will assist you.
Note that we have added two questions – "Would you like to connect with other people from your home prefecture in Japan?" and "Choose a prefecture".  We have set up Facebook groups to help JCQ members from particular areas in Japan connect with each other.  If you answer these questions, we will be int ouch to help you join your group.
Thank you again for your continued support.  If you have any questions or suggestions about how JCQ can do more for the Japanese community, or just want to get involved, please contact the management committee at info@jcq.org.au.
21/05/2019
Cycle Around Japan 2019
Cycle around Japan presented by the Consulate-General of Japan, Brisbane and supported by Japan Community of Queensland Inc.
Free Seminar + Networking with Light meal
Cycling tourism in Japan, and Japanese culture through the cyclist's eyes.
Featured Speaker: Mr. Michael Rice
With more than 280,000km of cycling clocked in Japan alone, Michael Rice is a man whose life revolves around bicycles. He is the Cycling TV programme presenter at NHK WORLD-JAPAN, the Japan Country Manager for CHAPTER2 Bikes, and has competed in World Masters races internationally.
His seminar will provide recounts of his unique touring experiences in Japan not depicted in your everyday tourist brochure, whilst giving expert advice on travelling from a foreigner's point of view.
Event Detail:
BRISBANE
Mon 17 June, 2:00-4:30pm
Dexus Place, L31, Waterfront Place       1 Eagle Street, Brisbane
GOLD COAST
Tue 18 June, 5:30-8:00pm
Robina Community Centre (Auditorium),
196 Robina Town Centre Drive, Robina
Registration details:
Cultural Affairs Section, Consulate-General of Japan in Brisbane
Phone: (07) 3221 5188 Email: culture@bb.mofa.go.jp
More detail and Flyer
09/04/2019
全豪剛柔流空手チャンピオンシップ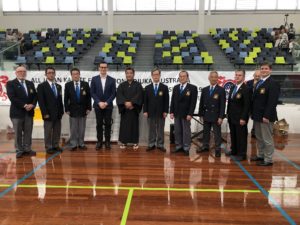 オーストラリア空手道フェデレーションからご主体を頂き、クィーンズランドの日本コミュニティーを代表して「全豪剛柔流空手選手権2019」のオフィシャルオープニングに参加してまいりました。
一緒に、当会のサポーターでもあり、クィーンズランド州議会豪日議員友好の議長サム・オコーナー議員と共に競技者へのメダル授与などを行ってまいりました。
また、日本から来た5名の空手連盟の師範の方々にもご挨拶をして、2020年のオリンピックの成功とご活躍を祈念する気持ちをお伝えしてまいりました。
I was invited as a represent of the Queensland Japanese community to the "All Australia Gojyuryu Karate Championship 2019" official opening with our supporter Mr. Sam O'Conner MP member for Bonny and Co-Chairman of the Parliamentary friends of Japan.
We welcome to the 5  Japanese Karate federation masters from Japan.