05/01/2023
Happy New Year
We wish you have a wonderful new year! We hope you, your family and friends are safe and healthy 2022.
It's going to be an exciting year ahead of us. JCQ will try to become a charitable organisation, which will achieve our objectives.
We look forward to work with you in 2023.
Best Regards
Committee
01/12/2021
An afternoon with Aunty Ruth
Highly respected Aboriginal Elder and author, Dr Aunty Ruth Hegarty to share her story of growing up under government control as part of Stolen Generations, her struggles and triumphs in the face of adversity.
The relationship between Japanese people and Indigenous Australians dates back well over 100 years. Part of Aunty Ruth's story includes her encounter with the descendants of Japanese pearl divers from Torres Strait and their friendships formed many years ago.
高名な作家でもあるDr. Ruth Hegarty女史をお招きしての講演会です。 彼女の半生、政府による抑圧の時代、失われた世代、葛藤などについてお話しいただけます。 また、先住民と日本人の関係は100年以上の長い歴史を持っています。トレストレイト諸島での真珠産業に携わる日本人との交流の思い出も話してくださる予定です。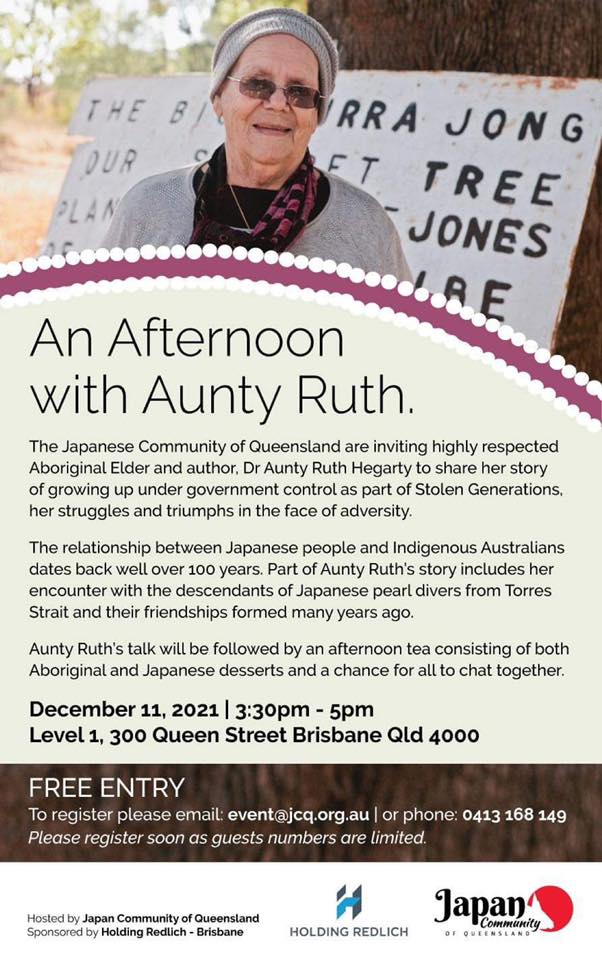 21/07/2021
会員登録の延長のお願い Renewal of our membership
皆様、
As a continued, valued member of Japan Community of Queensland, we would like to thank you for your ongoing support in the 2020 year. Last year, due to the ongoing ramifications of COVID-19, you may be aware, as noted by our committee letter, that financial fees for annual member were waived. As we enter this new financial year and become more accustomed to life with COVID-19, much of our activities have now recommenced and are in full swing. The Japan Community of Queensland (JCQ) would greatly appreciate your ongoing membership and support of our organisation, as this organisation, which has been set up to promote and support the interests of Japanese people in Queensland, can only grow with your ongoing input and involvement.
Please find below information regarding payment details and continuing membership to our organisation. If you are a new member, please refer to our website under the 'join us' tab for further information. 会員各位 平素より当会の活動にご協力を賜り誠にありがとうございます。 昨年は、コロナの蔓延に伴い、皆様の厳しい状況を鑑みて、当会の会費納入を凍結いたしました。 いよいよニューノーマルの時代に突入しました。そこで、我々はQLDに在住の皆様へのサポートや文化教育会館の開設に向け新たに始動いたします。 皆様のご協力を賜れば大変うれしく思います。
Ordinary member (individual/18+) – $20 a year
Junior member (individual/under 18) – $10 a year
Family member (up to 2 ordinary adult members and any number of junior members, all residing at the same address) – $50 a year
Corporate member (business) – $200 a year
Non-profit/small business – $100 a year
当会の会費は以下のようになっております。 一般会員(18歳以上) 年会費$20 ジュニア会員(18歳以下) 年会費$10 家族会員(大人二名子供18歳以下で同じ家に住んでいる方) 年会費$50 法人会員(大手) 年会費$200 法人、非営利、グループ 年会費$100 会費納入に関しては、以下の口座振り込みで結構です。Refにお名前とRN21(2021年Renewalの意味)と記入してください。
Payment details;
Payment of membership fees can be made by internet banking into our account;
Japan Community of Queensland Inc
BSB; 114879
A/C; 414424786
Ref; "Your Name RN21" (Example; Douglas Brown RN21)
Further information;
For further information regarding JCQ/individual considering to join, please refer to our websites below –
English – https://www.jcq.org.au/en/join-us
日本語 - https://www.jcq.org.au/ja/join-us

We look forward to seeing you at future Japanese community events in 2021. 皆様とお会いできる日を楽しみにしております。
JCQ Committee クィーンズランド 日本振興会
21/06/2021
Consul-General of Japan Mr. Tanaka's speech
Thank you for your kind invitation to the third Annual General Meeting of the Japan Community of Queensland. Since the AGM of last September had to be conducted online, I am delighted that we are able to hold this year's one face-to-face together.
JCQ has been making great efforts to support those Japanese adversely affected by the COVID-19 pandemic as reported at the last AGM, and despite restrictions on face-to-face exchanges continues to further Japan-Queensland relations through various activities. For this, I would like to express my heartfelt appreciation and full respect as Consul-General and on behalf of all those supported by the JCQ.
My office has endeavoured to provide the Japanese community with the COVID-19 updates from the State Government in Japanese language as quickly as possible. The JCQ's services in introducing additional information such as that from the Commonwealth government has been complementary to that and I should admit that in many occasions they are more easily understood and more comprehensive than ours.
In collaboration with other Japanese organisations throughout Queensland, the JCQ has also conveyed to the Commonwealth and the State Government, and our Embassy in Canberra and my office opinions and requests on behalf of the Japanese community in Queensland whose voices are not necessarily catered for through ballot boxes.
Although COVID vaccines continues to be prevalent among the nation, there still remains a significant number of businesses and individuals such as students, working holiday makers and the elderly who require assistances. It is my sincere hope that the JCQ in its fourth year continues to build upon its experiences thus far to expand its social engagement activities that connect Japan and the Japanese community with Queensland and Australian communities.
Thank you.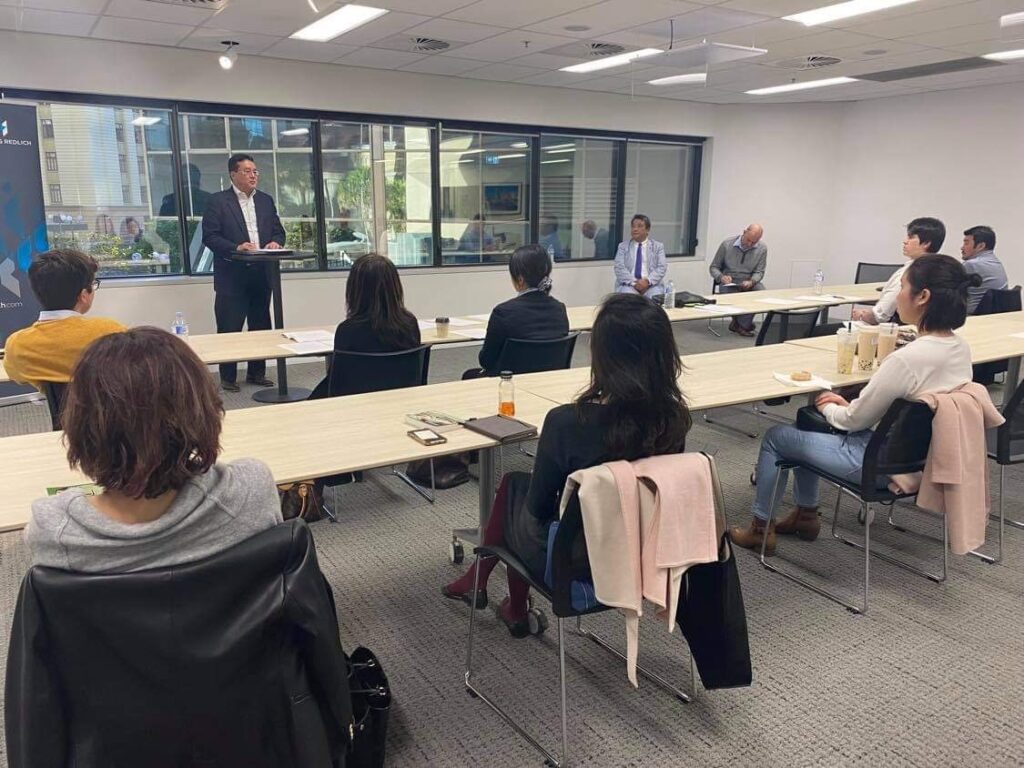 21/06/2021
2021 President report

I am very pleased to see you, in such a difficult time. We are still suffering from the Covid-19 pandemic, especially people who are working in the International tourism industry and the International education industry, including many Japanese nationals.
Our incorporation aims at being the primary body in Queensland to support Japanese nationals and residents in this state. In the last 10 months, as advocates of the Japanese community, JCQ has been working closely with the Japanese Society of Gold Coast Inc., the Japan Chamber of Commerce of Industry Gold Coast Inc. and the Japanese Society of Cairns to discuss with Federal, State and Local MPs and Councillors the difficulties faced by International client based industries. For the first time we coordinated a survey to all Queensland Japanese community to investigate the real opinions and concerns around the tourism industry.
I was honoured to represent the community to send community sentiments to Hon. Scott Morrison MP, Prime Minister of Australia, the Hon. Dan Tehan MP, Federal Minister for Trade, Tourism and Investment, and the Hon. Annastacia Palaszczuk, Premier of Queensland. Also, we had several meetings with the State Minister for Tourism Industry Development, Hon. Stirling Hinchliffe MP, the Deputy Leader of Opposition and Ministers for Tourism and Multiculturalism.
Support wise, we have been providing almost daily Covid-19 information and updates from QLD government sources translated into Japanese in a timely manner for over 400 days.
Even throughout this pandemic, we have many Queenslanders who have goodwill and interest towards Japan. The Gold Coast Language Speech Contest continues to grow in the Japanese sector having the largest number of entries, and we hear that so many of our Australian friends want to go to Japan, once the international borders open. In the meantime, we are delighted to announce that our social clubs, such as Awaodori, Koto and the Brisbane Idol Project are actively engaging with the community and sharing the fun and love of Japanese culture.
In our third year, we continue to strive to maintain a solid foundation, networking with others and trying to establish our goals and vision. With your active engagement, I believe JCQ will continue growing and reaching new heights.
This time we have a minor change to our committee team. I appreciate the founding secretary of our organization, David, for his huge contributions that has brought us this far.
Thank you to all members, both private and corporate, for your warm support and we look forward to working with you all this year stronger than ever.
President
Naomichi HIRANO